Covid-19 Alert – New Red/Yellow Zones Announced – 15th October 2020
The following is a machine translation of the new announcements made by the Polish Government on Thursday October 15th.
It relates to an expanded list of red zone areas and new requirements.
For the original version please visit
https://www.gov.pl/web/koronawirus/nowe-zasady-profilaktyki-przeciw-covid-19
From October 17, we are introducing new tools to fight the coronavirus across the country. Depending on the development of the situation, we will react on an ongoing basis and introduce further restrictions. All this to save the health and lives of Poles. What will change from next Saturday? Including functioning of catering outlets, activities of swimming pools and gyms, as well as the maximum number of participants in public gatherings. We have to limit social contacts again – it depends on how quickly we overcome the second wave of the pandemic.
Strategy
The government's strategy to combat the pandemic has three main goals. Our priority is, above all, the safety and support of seniors, adequate access to treatment for patients with COVID-19 and taking such measures to have the least impact on the economy and everyday life of Poles.
Coronavirus strategy – 3 main goals
The government's strategy to combat COVID-19 consists of three interrelated goals:
Support for seniors
One of our priorities is to ensure the safety of the most vulnerable and vulnerable group – seniors. It is possible, incl. by supporting and facilitating changes in daily activities and behaviors, including limiting contacts.
One of the facilitations are the hours for the senior. From Monday to Friday, from 10:00 to 12:00, only people over 60 years of age can visit the store, pharmacy and post office. However, this is not the only solution that will help protect the elderly. In addition, we will tighten the epidemic rules in nursing homes and care facilities, and recommend that contact with people over 70 years of age be as limited as possible.
Remember, you can help too! Offer support to an elderly or disabled person. Go shopping, get your medication, pick up your mail, or take your dog for a walk.
Adequate availability of treatment for COVID-19 patients
The main goal in the fight against the coronavirus is the safety of Polish women and Poles. For this to be possible, adequate access to treatment infrastructure – personnel, hospital beds and equipment must be ensured.
A coordination hospital will be established in each voivodeship, with additional intensive care stations for patients infected with coronavirus. Thanks to the increase in the number of hospitals, the number of available beds will also increase.
The Coordination Hospital will act as the main hospital in the voivodeship. Importantly, it will be focused on caring for a COVID-19 patient. The directors of these institutions will be included in the voivodeship crisis management teams, which will coordinate, among others:
patient flow between hospitals in agreement with doctors from other hospitals, primary care doctors and outpatient specialist care,
movement of "swab" and transport ambulances,
transfer of patients to isolatories.
Tools to fight COVID-19
We are introducing new tools to combat COVID-19 to reduce the transmission of the virus. However, we want them to have as little impact as possible on our daily activities, both economic and private. However, we know that this will not always be possible.
Remember, we'll just defeat the coronavirus together. Our responsible behavior and adherence to applicable rules is the most effective weapon against COVID-19.
New security rules across the country
New security rules will apply across the country from Saturday, October 17th. The exceptions are restrictions on weddings and other family celebrations – they will apply from October 19.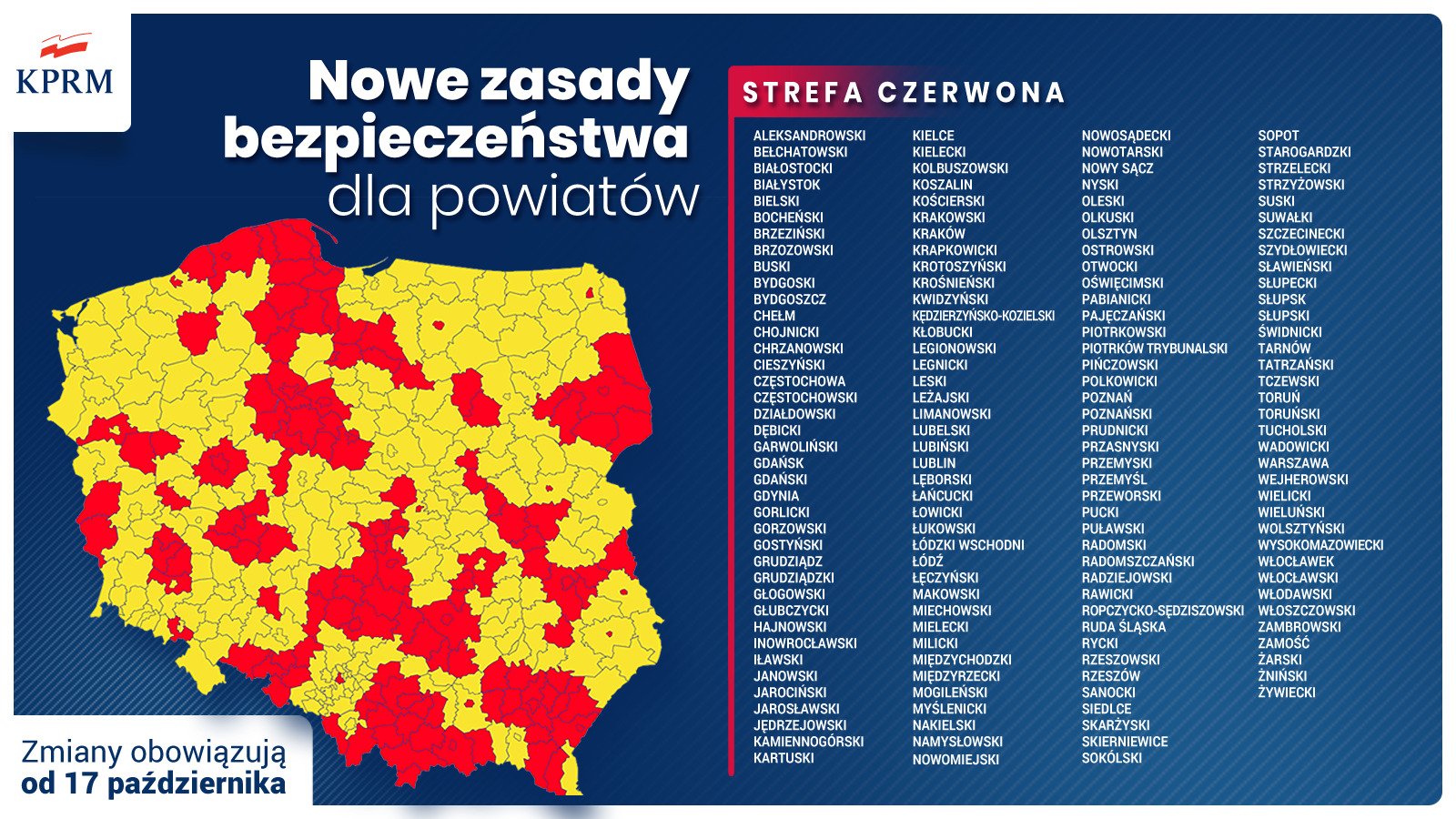 Yellow zone (the whole country, except counties from the red zone):
eateries can be open from 6:00 am – 9:00 pm. Every other table may be occupied. After 21:00 only take-away meals available;
limiting the number of people in public transport – 50% may be occupied seats or 30 percent. the number of all places;
from 19.10 – limited number of people at weddings and other celebrations – max. 20 people, no possibility to dance;
religious ceremonies may be attended by max. 1 person on 4m2;
public assemblies may be attended by max. 25 people;
hybrid teaching applies in universities and secondary schools;
sporting events without audience participation;
in cultural events max. 25 percent seats taken by the audience;
suspended activities of swimming pools, aquaparks and gyms.
Red zone:
limiting the number of people in retail outlets to 5 people per 1 cash desk;
from October 19 – ban on the organization of special events (weddings, consoles and others);
during religious ceremonies no more than 1 person per 7m 2 ,
public assemblies may be attended by max. 10 people;
in universities and post-primary schools, distance learning is obligatory (excluding practical classes).
In addition, the same safety rules apply in the red zone as in the yellow zone:
eateries can be open from 6:00 am – 9:00 pm. Every other table may be occupied. After At 21:00 take-away meals only;
limiting the number of people in public transport – 50% may be occupied seats or 30 percent. the number of all places;
sporting events without audience participation;
in cultural events max. 25 percent seats taken by the audience;
suspended activities of swimming pools, aquaparks and gyms.
New poviats in the red zone
From Saturday, October 17, the list of counties that will enter the red zone is expanding. A total of 152 poviats qualified for it, including 11 voivodeship cities.
Which poviats will be in the red zone?
Dolnośląskie Voivodeship: Głogów, Kamienna Góra, Legnica, Lubin, Milicki and Polkowice poviats;
Kuyavian-Pomeranian Voivodeship: the counties of Aleksandrów, Bydgoszcz, Grudziądz, Inowrocław, Mogileński, Nakło, Radziejowski, Toruń, Tuchola, Włocławek, Żniński, Bydgoszcz, Grudziądz, Toruń and Włocławek;
Lubelskie Voivodeship: poviats of Janów, Lubelski, Łęczyński, Łuków, Puławy, Rycki, Świdnicki, Włodawski, Chełm, Lublin and Zamość;
Lubuskie Voivodeship: Gorzowski, Krosno, Międzyrzecz and Żarski Poviats;
Łódzkie voivodship: Bełchatów, Łowicz, Łódzki eastern, Pabianicki, Pajęczański, Piotrkowski, Radomszczański, Wieluński, Brzeziński, Łódź, Piotrków Trybunalski and Skierniewice poviats;
Lesser Poland Voivodeship: Bochnia, Chrzanów, Gorlicki, Krakow, Limanowski, Miechowski, Myslenicki, Nowosądecki, Nowy Targ, Olkusz, Oświęcim, Suski, Tatra, Wadowicki, Wieliczka, Krakow, Nowy Sącz and Tarnów poviats;
Mazowieckie voivodship: Garwolin, Legionowo, Maków, Otwock, Przasnyski, Radom, Szydłowiec, Siedlce and Warsaw poviats;
Opolskie Voivodeship: Głubczyce, Kędzierzyńsko-Kozielski, Krapkowicki, Namysłowski, Nyski, Oleski, Prudnik and Strzelecki poviats;
Podkarpackie voivodship: the districts of Brzozowski, Dębicki, Jarosław, Kolbuszowski, Leżajski, Łańcut, Mielecki, Przemyśl, Przeworsk, Ropczycko-Sędziszowski, Rzeszów, Sanok, Strzyżów, Leski, Przemyśl and Rzeszów;
Podlaskie Voivodeship: Białystok, Bielsko, Hajnowski, Sokolski, Wysokie Mazowieckie, Zambrowski, Białystok and Suwałki poviats
Pomeranian Voivodeship: Chojnice, Gdańsk, Kartuzy, Kościerzyna, Kwidzyn, Lęborski, Puck, Słupsk, Starogard, Tczew, Wejherowo, Gdańsk, Gdynia, Słupsk and Sopot poviats;
Śląskie voivodship: powiats: Cieszyn, Częstochowa, Kłobuck, Żywiec, Częstochowa and Ruda Śląska ;
Świętokrzyskie voivodship: Busko, Jędrzejowski, Kielce, Pińczów, Skarżysko, Włoszczowski and Kielce poviats;
Warmińsko-Mazurskie voivodship: Działdowo, Iława, Nowomiejski and Olsztyn poviats;
Wielkopolskie voivodship: poviats of Gostyń, Jarocin, Krotoszyn, Międzychód, Ostrów, Poznań, Rawicki, Słupca, Wolsztyn oasis of Poznań;
West Pomeranian Voivodeship : Sławno, Szczecin and Koszalin poviats.
Stay safe – follow the DDMA principle
Our health depends on mutual responsibility. Everyone has an influence on how quickly the epidemic is brought to a halt. How can we do this? It is enough to apply the DDMA principle, thanks to which we protect ourselves and others:
D for distance
D for disinfection
M for a mask
Keeping distance min. 1.5 m from other people, frequent hand washing with soap and water and disinfecting them, as well as covering the mouth and nose in public spaces – these are the basic activities that reduce the risk of coronavirus infection.
The fight against the threat is also supported by the STOP COVID application – ProteGO Safe. It is completely safe, free and voluntary. Importantly, the more people use it, the faster and more effectively we will reduce the pace and extent of the spread of the coronavirus.